Details

Parent Category: Our interviews
Created on Friday, 07 January 2011 22:32
Last Updated on Friday, 31 May 2013 12:03
Published on Friday, 07 January 2011 22:00
Written by lovehim
Hits: 3638
Interview edited by lovehim [Giada] for The Heartagram Path
Thanks to Day Eleven for their kindness in answering our questions.
Photography: Rami Yli-Pukka & Mikko Haiko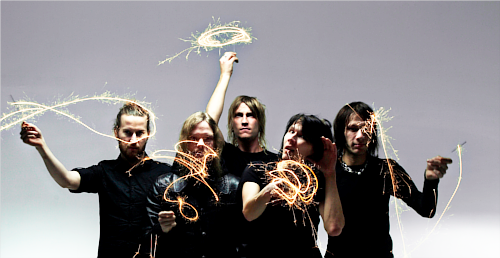 THP: Your story began almost 16 years ago. For those people who don't know your band yet, can you tell us something about how you started Day Eleven, your music influences and what kind of music you play?

JANNE: We were just a bunch of teenagers who wanted to make some noise and hang out together. We loved Black Sabbath and Nirvana and Guns N' Roses and thought it would be cool to do something similar. You know, not to rip those bands off but to play something with a wide variety of influences, straight from the heart and no limits. 16 years later, that's where our heads still are, though we really started to take this a bit more seriously around 2003 or so. We do a lot of different stuff from punk to metal to pop, but I think it simply falls into the wide category of "alternative rock".

THP: In 2004, after signing with the independent Finnish label GBfam Records, you did found the ultimate name of your band. Does it have a particular meaning?


JANNE: Day Eleven – "11th hour" – the last minute… now or never.

THP: Would you like to introduce your bandmates to our readers, telling us something about them?

JANNE: There's Luca on the drums, he hits them harder than anyone I've ever heard. He loves Mötley Crüe and motorcycles. Kimmo plays the bass, he's into balancing between too much beer and too much sports, and he's largely responsible for keeping us as focused as we can be. Olli is the weirdo on the guitar with a great loving-the-life attitude mixed with his unexplained tendency to stir things up, get fucked up and create chaos every now & then. And as the lead singer & guitar player, I'd say I'm the creative nazi-boss in this group, I don't write everything but it all goes through me some way or the other, finishing the lyrics or finalizing the songs or whatever. We had Matti playing guitar for a good number of years, but he's onto other things right now, so we're a four-piece at the moment... and so far it's been great.

THP: In 2005, you released your debut album Almost Over Everything, which has been anticipated by your first single Lost My Love. You worked on this album for about one year. How is it hard to auto-produce an album?

JANNE: You have so many different things to take into consideration all the time that it's pretty time & brain consuming stuff at times. There's no time off and every little decision has to be made by yourselves and there's no-one to blame for any fuck-ups either, whereas when you're working with a producer there's always the luxurious option of throwing your hands in the air and saying "fuck it, you take care of this, you decide..."

THP: Sleepwalkers has been released in 2007, produced by Jens Borgen (Opeth, Paradise Lost). It's an involving album which goes straight to the leastener who cannot but be overwhelmed by the powerful rhythm. What does this record represent for your career?

JANNE: It was a big step forward for us in the sense that we were a real band with some real experience from both live & studio work when we started making the album. Which means that on Sleepwalkers we had a pretty good idea of what we wanted it to sound like before we went in. (More like 5 individuals playing in the same room at the same time instead of endless overdubbing and months & months of indecision with the mixes & shit like that like with our debut album). And we had the resources to do it with the right people. Compared to the first album, we had a really good time in the studio, and many of the songs still sound to me as fresh and exciting as they were when we wrote them 5 years ago.

THP: Matador, your third album released in January 2010, is again an auto-produced record, realized in a studio in Suodenniemi, and then mixed and masterized by Forrester Savell (Karnivol, Helmet). It's a mix of songs different from one onother, with various ideas, easily accessible to everyone. How many time did you spend working on it?


JANNE: First of all, we spent something like 18 months (from the beginning of 2008) writing stuff and demoing songs over a couple of sessions. Once we had sorted the essential stuff from the rest (we had probably 30 songs to choose from but it was pretty easy to pick the ones we wanted) , it took about six weeks to get it all recorded, which for us is pretty quick, especially considering that we recorded it ourselves.

THP: Your past tour schedule is plenty of gigs. Doubtless, this is a strong point for you because it let you all gain the right stage confidence which is so important for every band. So, is still every gig exciting for you or you get used to this?

JANNE: Sometimes it happens that you don't experience any pre-gig nervousness, but it's not a good sign really, something's wrong if you don't feel a bit "wired". But yeah, every gig matters. Of course, bigger is better but we've played some of our best shows in front of only a handful of people. If you can't deliver the goods then, you sure as hell can't deliver in front of bigger crowds when the time comes.

THP: You also played some acoustic show. For a musician, what's the difference between playing an acoustic show and a "normal" one? Which one do you prefer?

JANNE: I enjoy the acoustic shows because of their "musicality", if you know what I mean. It's more free-form, it's easier to improvise and just go with the flow of the songs. I think we'll be adding more of the acoustic element to our "normal" shows in the future, at least the newer songs we have written have some acoustic guitars on them and they're pretty dynamic.

THP: Is there any funny backstage story that you want to share with us?

JANNE: I'd advice anyone, who's interested in those, to check out our band journal/blog/diary thing that we've been writing for 5 years now on our Myspace. It's all there, the good times & the bad.

THP: Up to this time, which was the best gig of your career and which one satisfied you the most?

JANNE: One of the best experiences so far has been the German tour we did three years ago supporting our Finnish friends Negative. The audiences were wonderful every night but even then, there was this one show in a town called Glauchau which was just so explosive that it's beyond words. Crazy. After a string of very good shows, after that one we were all still like 'What the fuck happened?!'.

THP: Finland is a country which offers beautiful and charming landscapes, shrouded in mystery. Do you somehow reflect your roots in your music?

JANNE: I don't know about that. Most of our musical influences come from UK & US.

THP: What do you think about the today international music scene?

JANNE: I've no idea what's going on you know, musically, in the "international music scene". Most of it sounds pretty lame to me (all the "rockers" especially), but that's because most of it has been done before. From 60´s to 90´s, there's so much good stuff out there that today's blandness ain't that much of a problem though. Well, now that I think about it, extreme metal still seems to find some new ground to cover, stuff like the latest Behemoth record, which I think could not have been made something like 10 years ago... their kind of music has EVOLVED into what it is at the moment, whereas most of the "new" shit you hear these days has been WATERED DOWN from stronger, original ideas, you know?

THP: Nowadays, the social networks are an useful way to spread and promote your music as well as a way to increase your own fan base. On your Myspace profile, we can find a daily updated blog where you post all the reviews of your gigs, with photos and videos, news about the band as well as infos about the albums you're working on. Let the fans being part of your work represent a way to build a sort of relationship with them. How much is this important for you all?

JANNE: They deserve our attention if we deserve theirs.

THP: On June 25th 2007, you played in Rome at the Midsummer Festival. How was this experience? Had you already been in Italy before?

JANNE: Hot as hell, more than 40 degrees C in the shade. It was a great trip, even though the show itself wasn't anything special really. Check out our blog for more.

THP: Any future plans? Are you planning on playing in Italy again?

JANNE: That would be nice. We're available if anyone wants us... just get us on the plane and we'll play anywhere.

THP: Are you already working on new ideas for your next album?

JANNE: Absolutely. We've been demoing some of our new ideas for the last couple of weeks. We have a lot of new ideas and songs already but the important thing is to find the really brilliant ones and fuck the rest. We have lot of diverse stuff, as always, and have actually been thinking that maybe we could do two separate releases the next time - something sweet and something a little more fucked up. Two EP's, who the fuck knows?


Give and take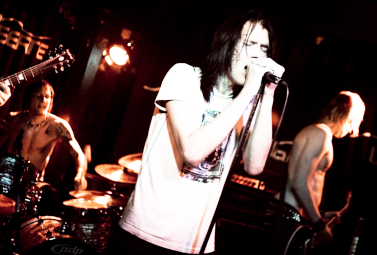 Day Eleven's favourite song
JANNE: Of our own songs, probably Dissonance Fading. It's always a joy to play live, probably because it's so often the last song in the set... so there's a sense of relief in the lyrics and in the actual sense as well... The number one best song in the world would probably be Waterloo Sunset by The Kinks... either that or S.C. Drunx by South Central Riot Squad.

The song which represents you the most
JANNE: Matador. A slightly optimistic mess. Nice hook, noisy ending.

The song that you would have written
JANNE: Anything that would grant me financial security for the rest of my life... Barbie Girl by Aqua.

The band yod'd like to work with
JANNE: Miss Monster Truck. If we had some extra cash we could put out their album on our label in case the rest of the world still refuses to understand their greatness.

The country you'd like to "conquer"
JANNE: We'd love to take over the Vatican.

Your most devoted fans are
JANNE: A bit weird I guess...

Your secret dream
JANNE: You think I'd reveal it here?

THP: In conclusion, a question that we always ask since our site is dedicated to HIM,a band that led us into the beautiful world of Finnish music. What do you think about their music?

JANNE: They were really exciting when they first came out in ´96 - ´97. We saw some of their very first shows in ´97 and I remember thinking that they were the absolutely coolest Finnish band at that time because they had this Black Sabbath - Danzig - Type O -thing going on, and I was very much into those bands. Their first album was pretty mind-blowing when it came out, Razorblade was cool and I think the new one wasn't half-bad either...

THP: What ealse, thanks again for your time and congratulations for your great work.
We really hope to see you soon touring Italy.

JANNE: Thanks. We'll do our best to get some new shit out next year and get this show on the road outside of Finland too!